Building the digital research infrastructure on European integration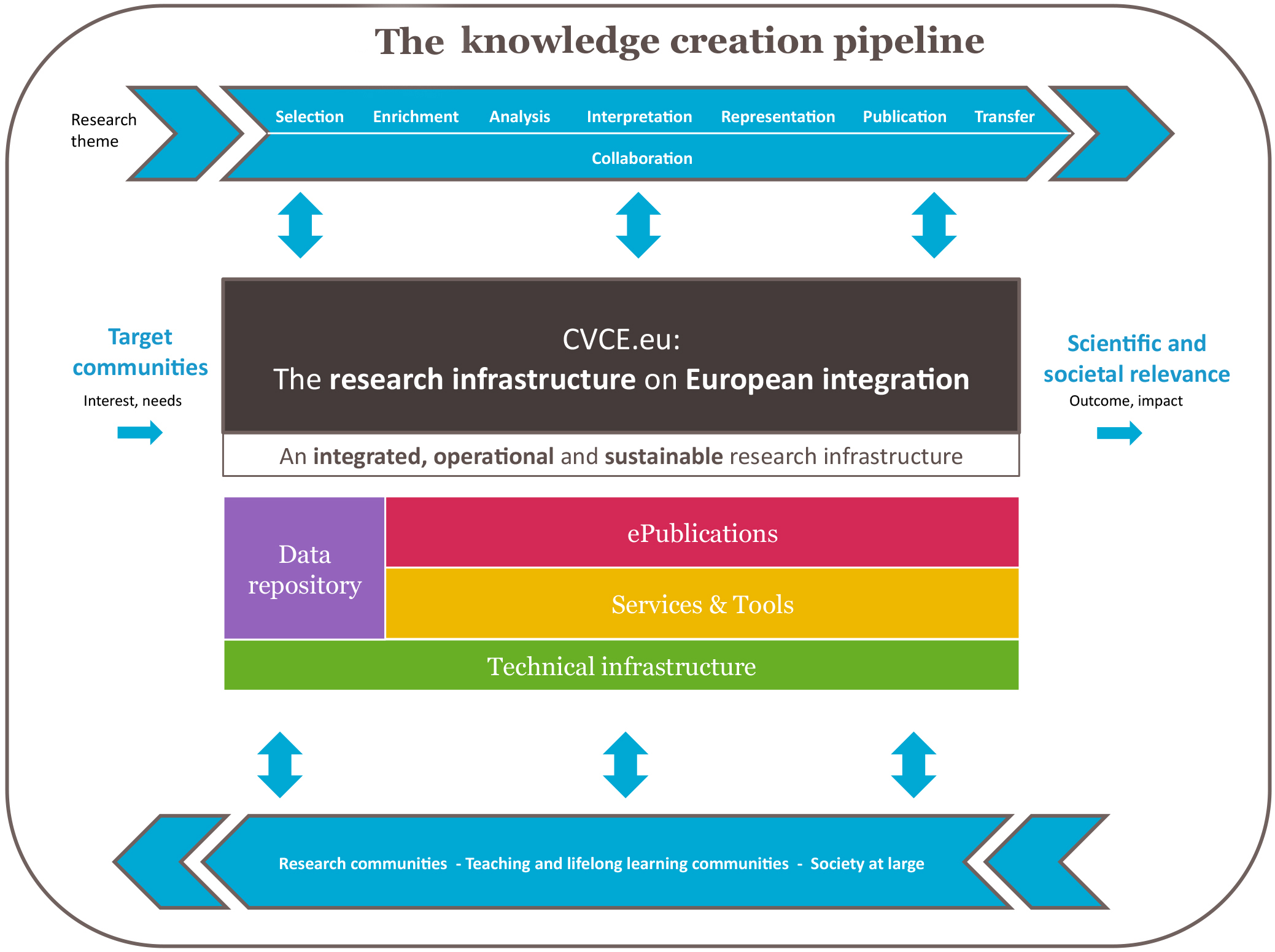 Digital humanities and digital research infrastructures are emerging concepts within the field of humanities and social sciences (HSS). Terminology and concepts have changed over the years with the common ambition to integrate ICT-based methods and tools into the HSS research and publication process. In a digitally enabled environment, new possibilities for analysing data, for innovative publication models and for collaborating and sharing are emerging and will support the knowledge creation process and encourage interactions with both scientific target groups and society at large.
The building of the CVCE.eu digital research infrastructure entails an integrated, cross-disciplinary and cross-sector approach, creating an intrinsic link between European integration studies and computer science, engineering and information sciences as well as taking into account editorial and publishing tasks (including multimedia production, multilingual aspects and IPR issues). The university thus combines humanities research strategies with emerging ICT-based methods and tools for information processing and exploration and for knowledge creation and transfer.
Relevant source material is at the basis of the research process in the humanities and enables critical enquiry into specific subjects or questions. Within this framework, the Centre's research process incorporates a documentation strategy that guides the selection and gathering of relevant source material independently of its provenance, format or language. Relevant materials are analysed, processed and published in contextualised ePublications within the digital research infrastructure. The research data is also accessible through the Centre's data repository, comprising curated and enriched digital representations of relevant source material which is subsequently used for further enquiry and examination.
Situating European integration studies in a digital environment adds layers of complexity and broadens humanities research and dissemination methods. The possibilities of cross-disciplinary collaboration between digital humanities specialists and humanist researchers and the development of a dialogue with citizens contributes to the formation of new knowledge and the creation of new research questions. Furthermore, the development of innovative forms of scholarly contribution is an integral part of the research process within a digital environment. Target group-oriented services and tools allow for relevant usages within communities of practice as well as society at large.
In order to build trust and develop high-quality outputs, the transparency of the research and development process is a corollary to the development of these new forms of scholarly resources, including the publication of related methodological and editorial apparatuses as well as technical documentation. Peer reviews as well as interactions with users/contributors and researchers/citizen scientists are at the basis of the university's approach.
En savoir plus: