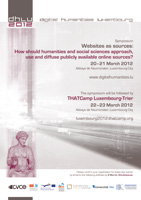 20-21 mars 2012: DHLU 2012
Le CVCE et l'Université du Luxembourg sont heureux de vous inviter au symposium 'Digital Humanities Luxembourg' (DHLU 2012) qui s'inscrit dans leur programme de recherche commun Digital Humanities Luxembourg: the future of research in humanities and social sciences. Le symposium aura lieu du 20 au 21 mars 2012 à l'Abbaye de Neumünster à Luxembourg.
Ce colloque, organisé par le Digital Humanities Lab du CVCE et l'unité de recherches Identités politiques - Sociétés - Espace (IPSE) de l'UL, abordera à la fois les aspects méthodologiques et les implications théoriques et institutionnelles de la dissémination des résultats de la recherche. Il mettra l'accent sur les sources numérisées et publiées en ligne ainsi que sur les sites internet eux-mêmes, lesquels seront analysés comme sources digital born. Le potentiel de cette approche de recherche innovatrice sera également exploré.
Les places sont limitées, ne tardez pas à vous inscrire avant le 8 mars 2012. Consultez www.digitalhumanities.lu pour plus d'informations.
22-23 mars 2012: THATCamp Luxembourg/Trier
THATCamp Luxembourg/Trier lancera une série de non-conférences dans la Grande Région rassemblant humanistes, informaticiens et acteurs des médias numériques, en fait tous ceux qui sont intéressés par la jonction de l'histoire, de la culture, du patrimoine aux médias numériques. Mais en quoi THATCamp se différencie-t-il des conférences conventionnelles?
- THATCamp rime avec réalisation, action, communication et capacités plutôt qu'avec écoute et dispense de cours magistraux.
- Il n'y a aucun délai pour la soumission des articles, aucune présentation fastidieuse et peut-être même pas de discours liminaire.
À la place, chacun aura l'opportunité de proposer des sessions et des thèmes à cet événement. Certains pourront se pencher sur des questions qui auraient été soulevées lors du colloque DHLU le jour précédent, d'autres pourront discuter d'un sujet auquel ils auraient été confrontés au cours de leur recherche sous un angle interdisciplinaire ou bien encore enrichir leur propre recherche de questions et points de vue différents.
Est-ce que ce sera scientifique? Probablement pas au sens strict. Mais il constituera assurément un bon point de départ pour générer de nouvelles idées de recherche.
Est-ce que ce sera efficace? Vous pourrez nous le dire quand il sera terminé! THATCamp Luxembourg/Trèves sera une expérience enrichissante où les participants venant de différentes disciplines, travaillant sur des sujets de recherche différents et parlant différentes langues auront l'occasion de se rencontrer et de discuter.
Est-ce que ce sera sérieux? Tout dépend quelle conception vous avez du mot "sérieux". Ce sera assurément beaucoup de travail: nous sommes tous des professionnels et nous voulons retirer quelque chose du temps que nous y consacrons. Mais sérieux ne signifie pas forcément ennuyeux!
L'événement aura lieu à l'Abbaye de Neumünster à Luxembourg. Les inscriptions, limitées à 50 participants, sont ouvertes jusqu'au 8 mars 2012. Consultez http://luxembourg2012.thatcamp.org pour plus d'informations.
Au plaisir de vous pouvoir vous accueillir en mars!